Corecasys ATA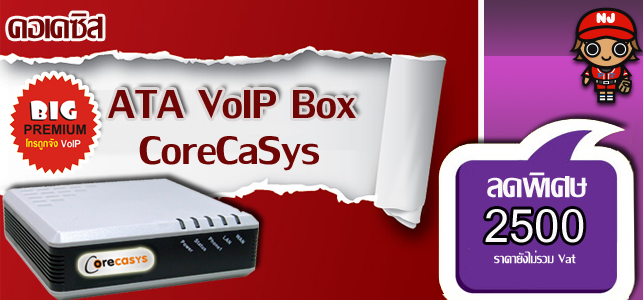 Corecasys ATA ถูกออกแบบมาเพื่อแก้ไขปัญหาเรื่อง NAT ภายในระบบ VOIP โดยเฉพาะ ซึ่งนับเป็นปัญหาใหญ่ของการติดตั้งระบบ VOIP โดยการรับส่งข้อมูลเสียงนั้น ไม่เหมือนกับการรับส่งข้อมูลประเภท DATA ซึ่งหากระบบเครือข่าย มีการแตก NAT หลายชั้นเท่าไร ย่อมจะส่งผลกระทบต่อการรับส่งข้อมูลสัญญาณเสียงมากเท่านั้น ในสถานการณ์นี้ ฟังก์ชั่น VPN ที่อุปกรณ์ ATA นั้นมีความจำเป็นเป็นอย่างมากที่จะเอาเข้ามาแก้ไขปัญหา อุปกรณ์ Corecasys ATA นั้นรองรับการใช้งาน Sip Account ได้ถึง 5 Account รองรับการใช้งานแบบ Router มี Port WAN แบบ RJ45 / 1 port และ Port LAN แบบ RJ45 / 1 Port มี Port สำหรับเชื่อมต่อสายโทรศัพท์แบบ RJ11 / 1 Port อุปกรณ์มีสถานะไฟแสดงการทำงานของการเชื่อมต่อ WAN, LAN, Sip Server และการใช้งานโทรศัพท์ ที่สำคัญมีสัญญาณเสียงที่ดังฟังชัด สามารถเปิดใช้งานแบบ 24x7 ได้อย่างไม่มีปัญหา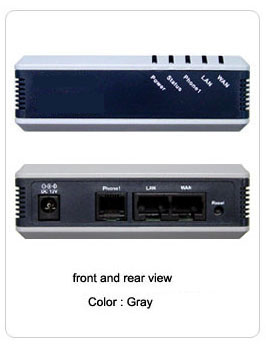 Corecasys เราให้บริการจัดจำหน่ายผลิตภัณฑ์ต่างจากผลิตภัณฑ์ยี่ห้ออื่นเป็นอย่างมาก เพราะเราขายอุปกรณ์พร้อมบริการหลังการขาย และความรู้ต่างๆ ที่คุณจำเป็นต้องใช้งานเกี่ยวกับอุปกรณ์ของเรา ด้วยความที่เราเป็นผู้พัฒนาระบบ (SI) เราจึงสามารถผลักดันคุณให้ใช้งานอุปกรณ์ได้จนจบความต้องการของคุณ โดยเฉพาะอย่างยิ่ง นโยบาย การให้ทดลองใช้งานผลิตภัณฑ์ยาวนานถึง 3 สัปดาห์ ยังเป็นข้อพิสูจนได้ว่า เมื่อคุณซื้ออุปกรณ์ไปแล้ว อุปกรณ์จะต้องช่วยงานคุณได้อย่างมีเสถียรภาพ ไม่ใช่เอาอุปกรณ์เข้าไปสร้างปัญหา และความวุ่นวายใจให้กับคุณ
To select freely up to 5 SIP service Accounts
ATA is appropriate to use for VoIP Service Providers, IP Centrex service and IP-PBX within
offices and remote branch offices. Up to 5 SIP Servers ( or ITSP Service provider or alternative
IP-PBX ) can be configured at both simultaneously. You can dial one of five accounts number
directly no hassle.

Provision is easier than before
Auto Provision server software installs at Windows or Linux platform are supported to manage,
configure and configure firmware download remotely to ATA. It is a convenience device for VoIP
ITSP Service provider to manage ATA easily.
Suit to IP Telephony Service Provider
This device is SIP IP device to connect with existing analog telephone set to make IP call. Its
compact design and easy installation allow home user or single user to make or receive call
just like an legend telephone call but less cost. It is compatible with broadband internet service
device such as ADSL/Cable Modem and WiMax/3G Modem. It help ISP provider to provide
Telephony service to existing customer without additional cable. It provides fast, easily, cost
effective and remotely management feature to migrate from ISP to Telephony ISP service.


Specification
Interface:

Ethernet port (RJ-45, 10/100 base-T)

1-WAN port, connect to IP Network
1-LAN port connect to PC with NAT

DC +12V power input Jack
Reset key to return Factory setting

IP Network connection

IPv4 (RFC 791),
MAC Address (IEEE 802.3)
MAC Clone Setting
IP/ICMP/ARP/RARP/SNTP
Static IP
DHCP Client (RFC 2131), WAN port
DHCP Server, LAN port
Wire line speed more than 85MB at Bridge mode
PPPoE
DDNS
DMZ
VLAN : 802.1Q/1P
Virtual Server (DHCP Server IP range)
DNS Client
PPTP VPN Client tunnel 64 bits without compression
SNTP support Daylight Saving Time (DST) configuration
SNTP with time zone
TCP/UDP (RFC 793/768)
RTP/RTCP (RFC 1889/1890)
IPV4 ICMP (RFC 792),
TFTP Client
QoS Support : ToS

SIP Protocol :

RFC3261 compliance
Support up-to 5 SIP Register Accounts
SIP Proxy compatible with brand name : Asterisk and Nortel
SIP UDP Protocol
Support SIP compact Form
SIP Session Timer (RFC 4028)
MD5 Digest Authentication (RFC2069/RFC2617)
Message Waiting Indication (RFC3842)
Event Notification (RFC3265)
REFER (RFC3515)
Support Outbound Proxy
Support DNS SRV to locate SIP Server (RFC 3263)
Support STUN NAT Traversal
Support "rport" parameter (RFC 3581)

Audio Codec :

G.711 A-law/μ-law, G.729, iLBC, G.726
Silence Suppression
VAD/CNG
Jitter Buffer : Up to 32 packets
LEC : Line Echo Canceller
Packet Loss Compensation
Automatic Gain Control
In-band/out of band DTMF (RFC4733, RFC2833 / SIP INFO)
Adaptive/Configurable Jitter Buffer
Acoustic Echo Cancellation
Speed Dial
Phone Book ( up to 140 records )
Clock, Call-Duration display
Call History of Missed, Received and Dialed
Dialing Plan with drop, replace, Insert dialing digits
Selectable Call Progress Tone
Support Personal Melody Ring
Auto Answer Mode
Support Specified Line Calling

Call Features :

Caller ID display DTMF (before/after 1st ring) and FSK (before 1st ring )
Tone Generation: Ring, Ring Back, Dial, Busy, call waiting and congestion tone
Out-Band DTMF : RFC2833 and SIP Info
Voice Mail with Indication
Speed Dialing
Call Waiting/Switching between Calls
Call Forward (Busy, Unconditional, No Answer)
DND : Always ON or configurable period
Call Hold
Call Mute
Call Transfer
Flexible Dial Plan: Drop and Replace Rule
T.38 FAX : Enable or G.711 Codec A-law/u-Law Pass trough Codec
Alarm Ring Reminder
3-way conference call
Music-on-hold support (via IPPBX or local)
Redial
Hot Line
Support Peer to Peer Dialing
Volume Adjustment: Handset Volume (receiver) and Handset Gain (Transmitter)


selection
Flash Time Detection: range from 70 to 2550 ms
ON-HOOK Voltage -48Vdc
Support 12/16Khz metering signal or Polarity reversal for Billing
Service Up to 1 Kilo-meter distance from ATA to analog telephone set
Global Country Impedance setting
CPC Delay : 2 to 5 seconds (Open Loop Disconnect time)
CPC duration: 10 to 1200ms

MANAGEMENT :

Administrative Telnet CLI and HTTP
2 Levels of User Access Right with Password protection
Management from WAN enable or disable
Provides System Status Logs
Network Status Display : WAN and LAN port Status
Diagnostics (debug through syslog)
Configuration Backup/Restore
Firmware configurable updated
Reset to factory Default
Support Auto Provision through MAC address
Voice configuration from analog telephone set with DTMF tone and voice


announcement
** Support Welltech proprietary encryption protocol at SIP Signal and Voice codec


during transmitting to IP network in order to Anti-ISP block of VoIP call. This feature


only be available with Welltech SIP server or SIPPBX6200 IP-PBX

Environmental :

Dimension: 9.9(H) × 9.9(W) × 3.2(T) CM
Weight: 0.35kg (One unit with packing)
Operating Temp. & Humidity

Temp.: 0°C~45°C (32°F~113°F)
Humidity: 10%~90% relative humidity, non-condensing

Power Adaptor:

INPUT: AC100V~240V, 50/60Hz
OUTPUT: DC 12V,

Approvals:
Country of origin:
Packing Accessories

ATA Box

AC to DC+12V Power adaptor x 1 pcs
1 meter Ethernet cable x 1 pcs
CD User Manual x 1 pcs

Warranty
Ordering Information
| | |
| --- | --- |
| | ATA171 plus |
| Analog Phone | 1 line FXS |
| Color | Gray |